2020-2021 Women's Bible Study
Presbyterian Women Horizons Bible Sudy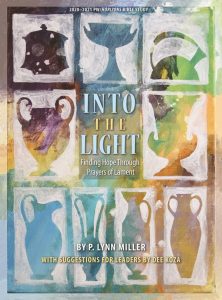 The 2020–2021 PW/Horizons Bible study, Into the Light: Finding Hope Through Prayers of Lament, art and text by Lynn Miller and Suggestions for Leaders by Dee Koza, revives lament as a proper theological response to the difficult situations of our world.
One of the foundational points of the study is that, in scripture, lament usually leads to hope. After crying out to God, the one who laments remembers God. And while that doesn't fix things in the moment—the injustice, the loss, the wrong still exist—the one who laments is strengthened to face the world and to hope.
When we lament, we move from suffering to faith. In our faith there is hope. We lament in order to hope. Recovering lament may be one of the church's most timely gifts to the world.
This bible study begins in November. All Women are invited to attend.