Adult Faith Formation
Mission Statement
The Learning Ministry Team supports MSPC's mission to be centered in Christ, caring for community. In accord with the Reformed theological tradition, with accountability to the Session, the Learning Ministry Team provides classes, retreats, mentoring, and a church library to the MSPC congregation and its neighbors. Guided by the Holy Spirit, the Learning Ministry Team fosters scripturally informed reliance on God among followers of Jesus, so that they may live and serve others with wisdom and joy.
Adult Faith Programs & Groups
Adult Faith Formation is a means to discover our gifts for ministry. This is fostered through study, prayer, meditation, retreats, and hands-on projects. Programs offered are intended to provide fellowship for participants, guidance toward a closer relationship with God, strengthen our Reformed Presbyterian identity, and support MSPC's working in the world for peace, justice, freedom, and human fulfillment.
Be sure to check the Sunday Bulletin or The Oracle for the current program schedule, as there may be adjustments. We encourage all adults to participate in these activities:
Church Library
Check out our Library web page by clicking RESOURCES.
Women's Bible Study (Monthly)
Presbyterian Women Horizons Bible Sudy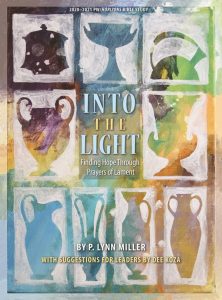 The 2020–2021 PW/Horizons Bible study, Into the Light: Finding Hope Through Prayers of Lament, art and text by Lynn Miller and Suggestions for Leaders by Dee Koza, revives lament as a proper theological response to the difficult situations of our world.
One of the foundational points of the study is that, in scripture, lament usually leads to hope. After crying out to God, the one who laments remembers God. And while that doesn't fix things in the moment—the injustice, the loss, the wrong still exist—the one who laments is strengthened to face the world and to hope.
When we lament, we move from suffering to faith. In our faith there is hope. We lament in order to hope. Recovering lament may be one of the church's most timely gifts to the world.
This bible study begins in November. All Women are invited to attend.